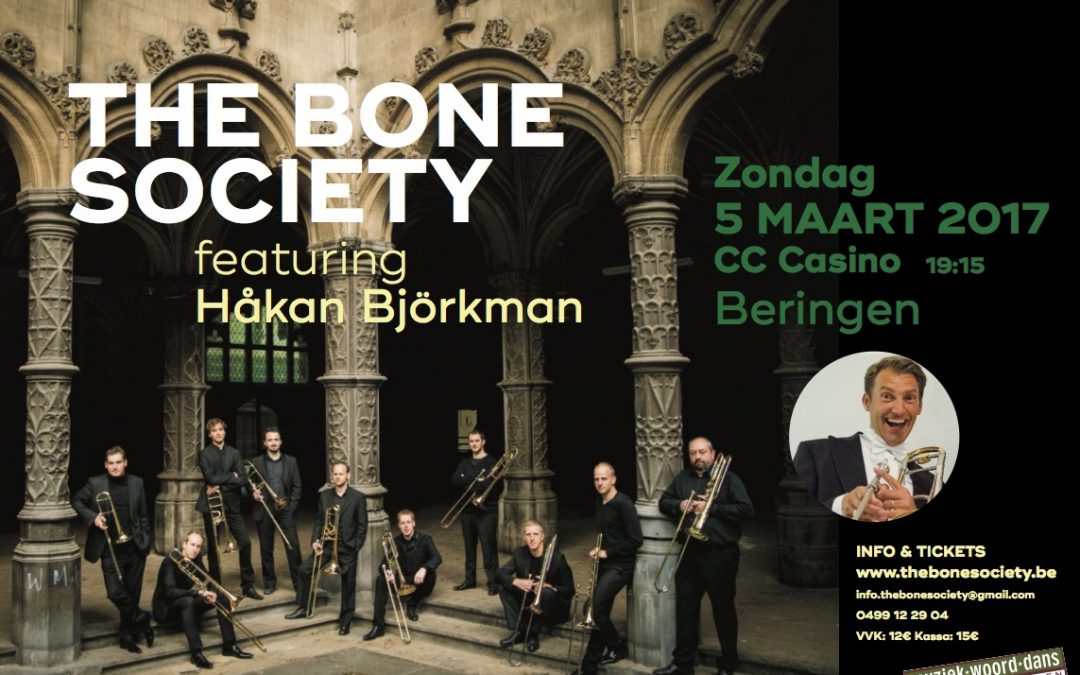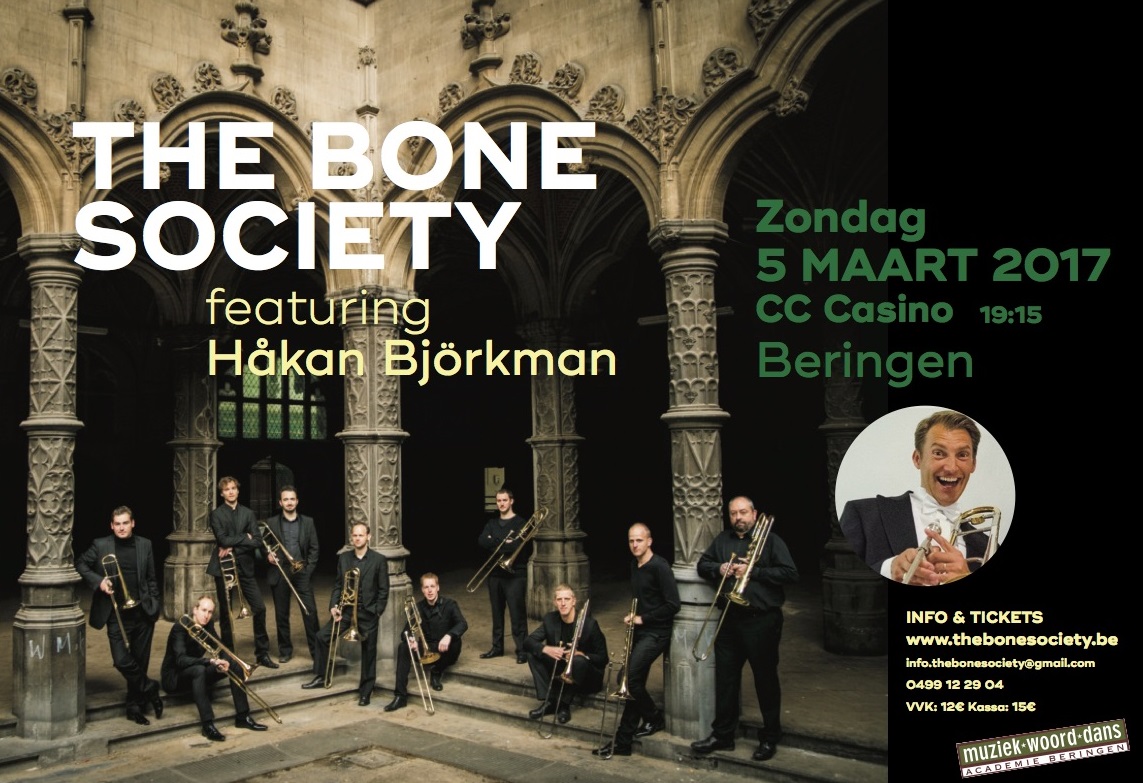 Galaconcert
Van harte nodigen wij u uit op onze zevende editie van ons Galaconcert op 5 Maart 2017 om 19:15 in het Casino in Beringen.
Onze solist van deze avond, Hakan Björkman, is een specialist op alttrombone en komt uit Zweden. Hij is solist en is actief in orkesten zoals het Chamber Orchestra of Europe en het Swedish Radio Symphony Orchestra.
Voor deze editie hebben we een aantal componisten van eigen bodem een opdracht gegeven met als resultaat: een wereldpremiere van Bert Appermont en een nieuwe compositie van Steven Verhelst. Ook heeft onze alt trombonist, Lode Smeets een aantal mooie arrangementen op onze maat gemaakt van werken van J.S. Bach en Sandström. Onze solist brengt het thema en variaties van het volkslied mijn hoed die heeft vier deuken. Kortom een veelbelovend gevarieerd programma!
Kaarten en Info verkrijgbaar bij alle leden van The Bone Society: Jan Nicolaers, Lode Smeets, Wim Lauryssen, Rob Cuppens, Maarten Bruyninckx, Erwin Kelchtermans, Luc Thys en Jeroen Mentens of op ons emailadres info.thebonesociety@gmail.com
Je kan ook kaarten bestellen via de Stedelijke Academie voor Muziek, Woord en Dans Beringen.
Masterclass
The Bone Society organiseert op zaterdag 4 maart 2017 een masterclass met Zweedse alt en tenor trombone virtuoos: Hakan Björkman.
Deze masterclass gaat door van 15h tot 20h in de grote zaal van Gemeentelijke Academie voor Muziek en Woord te Mol, Kunstlaan 12, 3500 Hasselt. Aansluitend op deze masterclass volgt er een korte repetitie met alle deelnemers (zowel passief als actief) olv een lid van The Bone Society voor het stuk Titanic Fantasy dat op ons concert wordt gespeeld als laatste stuk op zondag 5 Maart.
Voor 50€ neem je actief deel aan de masterclass.
Voor 20€ neem je passief deel aan de masterclass.
Zoals in al onze vorige edities zijn de plaatsen beperkt in deze masterclass, dus wees er op tijd bij met de inschrijvingen.
Met jouw passieve of actieve deelname aan de masterclass ontvang je ook een ticket voor ons galaconcert The Bone Society featuring Hakan Björkman op zondag 5 Maart om 19:15 in CC Casino Beringen.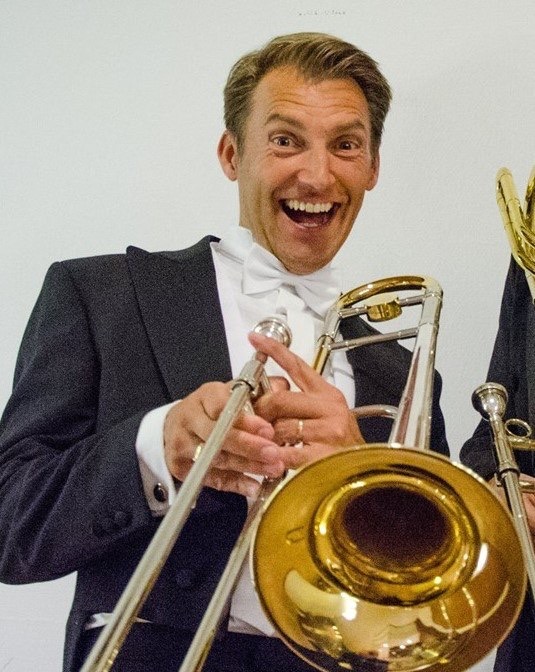 Onze Solist: Hakan Bjorkman
HAKAN BJÖRKMAN started playing with the Chamber Orchestra of Europe in 1998 as principal trombone.
Besides his involvement in the COE, Hakan has been principal trombonist of the Swedish Radio Symphony Orchestra since 2010 and held the same position in the Stockholm Symphonic Wind Band (1993-1996) and in the Royal Swedish Opera (1996-2010). Ha?kan is a keen chamber musician and has played with Christian Lindberg's quartet Trombone Unit 2000, The Stockholm Sinfonietta, The Stockholm Brass Band, and a trumpet quartet including the bass trumpet as well as the contra bass trumpet.
Hakan was born in Arboga, Sweden, in 1969. He started taking piano lessons and decided to learn the trombone as well, studying first with Folke Carlsson and John Petersen (principal trombonist of The Royal Stockholm Philharmonic). Hakan then entered Stockholm's Royal Academy of Music where he was taught by professor Sven-Erik Eriksson. He graduated with a Medalist Solo Diploma and, through scholarships, studied in the USA with Joe Alessi, Per Brevig and Mark Lawrence.
As a soloist, Hakan has performed in Sweden, Finland, Norway the UK, USA, Spain, Austria and Germany together with orchestras including the Royal Swedish Orchestra, Royal Stockholm Philharmonic, Stockholm Sinfonietta, Nordic Chamber Orchestra, Tromsø Chamber Orchestra and Stockholm Symphonic Wind Orchestra.
Over the years, Hakan has won numerous international competitions and regularly takes part in Festivals, performing solo recitals or in chamber music ensembles. Hakan currently teaches at MDH music Academy and The Royal Academy of Music in Stockholm. He released his second solo album, "Selections" in 2014. Håkan is a Yamaha performing artist and has developed his own model and mouthpieces.